Want to get delicious, crispy food with less calories and cooking time? Check out our list of the Best Air Fryers for 2021.
Let's face it, everyone loves fried food. Imagine you can get all the crisp and flavor from fried food without the oil. Enter the air fryer.
Air fryers have become increasingly popular over the past few years and are becoming a staple in lots of home kitchens. But can't you just use an oven? While ovens are a good cooking alternative to frying, they just take too long to preheat and cook. An air fryer takes less than 5 minutes to preheat and can cut your cooking time in half!
The best part is that air fryer cooking isn't limited to fries and chicken fingers, but you can even roast veggies and whole chickens!
In this review, we'll be covering these top-rated air fryers:
We want to show you the absolute best air fryers, so we reviewed the units with these main factors:
Capacity – The capacity of your air frying basket determines how much food you can cook at once. You can opt for a smaller machine if you're single or a couple, but cooking for 4 people would require multiple batches. Bigger capacity machines are great for families and for entertaining.
Ease of use – Some machines come with preset programs that cook different foods to perfection. If you don't want to think about time and temperature, go for a machine with presets. If you prefer more control, go for a machine with more manual settings.
Cleaning – Not all components in your air fryer will be dishwasher safe. Consider ease of cleaning if you don't like hand washing.
Noise – Like any appliance, air fryers do make noise. Some are louder than others but most operate at a similar noise level as a microwave.
Basket shape – Baskets are usually round but some machines have a square shape. Square baskets usually can fit a little bit more when laying food flat.
So let's start cutting calories and eating fast, delicious food with our list of the top 5 Best Air Fryers for 2021!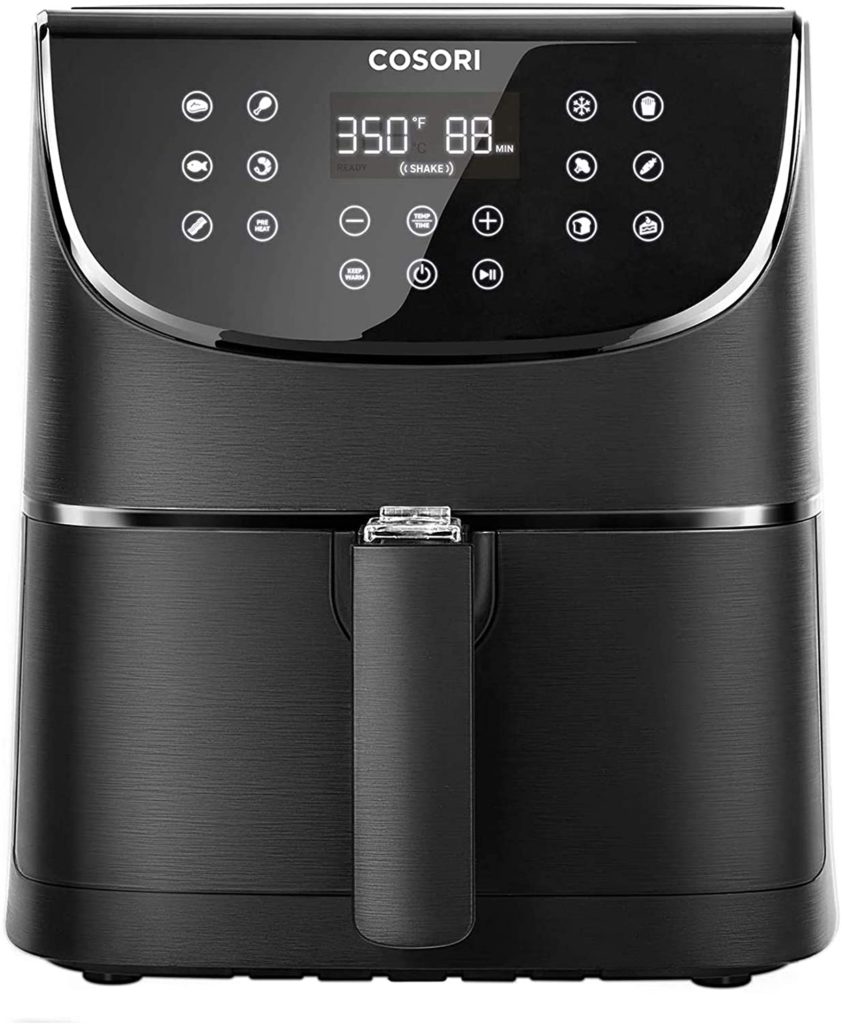 Cosori Air Fryer Max XL
Our top pick is the Cosori Air Fryer Max XL. This large 5.8 quart air fryer is the perfect option for families and those who cook for 3-5 people on a regular basis. In fact, this air fryer can even fit a whole 6 lb chicken! What a perfect way to whip up an easy and healthy weeknight meal.
The Cosori air fryer runs quiet and has a dishwasher safe basket for easy cleanup. There are 11 preset cooking programs so you'll never have to worry about selecting the best time and temperature. If you're cooking fries, just hit the fry button; if you're cooking veggies, just hit the vegetable button—it's that simple!
Once you've selected your preset, the bright display is nice and clear and makes monitoring your air frying easy. This machine also includes a recipe book with 100 great air fryer recipes that are easy to follow and execute even for those who don't like cooking.
Finally, the Cosori Air Fryer Max XL has a square basket. The square shape allows for even more food to fit on the tray in an even layer so you can get the perfect crisp every time.
The main complaint users have is the condensation that's created under the machine from steam. You could always put a towel under the tray to keep your counter dry.
Also, you must be patient when cooking! If you're one who likes to check on your food often before it's done, you'll have to reset your cooking settings because the machine automatically turns off when the tray is open.
Ninja Max XL Air Fryer
Next up is the most versatile air fryer on our list, the Ninja Max XL Air Fryer. This machine has an impressive temperature range from 105°F – 450°F so the possibilities are endless.
You can use this air fryer for everything from dehydrating to broiling. The Ninja Max XL claims to cook food 30% faster than other models and testing proved that they aren't lying! This air fryer is one of the fastest ways to cook.
A unique feature of this machine is its broiling rack, which allows you to get maximum crisp. The dehydrating mode is a great way to make healthy snacks from fruits and veggies like bananas and mangoes and you can even make your own beef jerky!
This Ninja air fryer is durable and high-quality. The basket has a ceramic coating for easy cleaning that fits snugly into the tray so you can easily dump food onto a plate without the basket falling out.
The digital timer counts down to the second so you can always monitor how much time is left before your food is ready. The Ninja Max XL offers 7 cooking programs and has a capacity of 5.5 quarts so it's great for families.
The only real drawback here is the round basket that can't hold quite as much as a square one. Also, users reported having to run the machine a couple times to burn off the new appliance smell.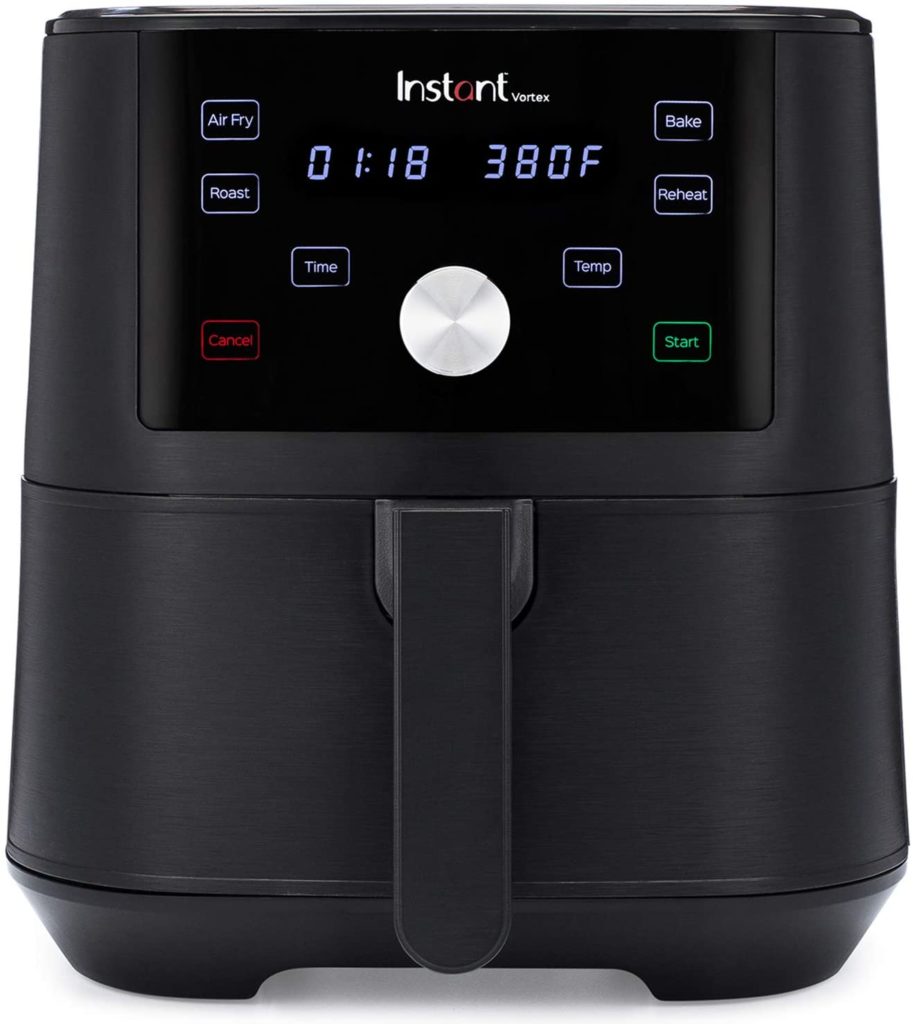 Instant Vortex Air Fryer 4 in 1
Next, we have the Instant Vortex Air Fryer 4 in 1. From the makers of everyone's favorite Instant Pot, the Instant Vortex Air Fryer is a great 6 quart air fryer with 4 cooking modes. With this machine, you can fry, roast, bake, and reheat all with the touch of a button.
The bright touch screen display has 8 buttons that are easy to use and wipe clean. The digital display shows the time and temperature clearly from wherever you are in the room.
This machine only takes 3 minutes to preheat, which is a huge time savings compared to an oven. Once preheated, the Instant Vortex can hold 2 lbs of fries in its large basket.
The basket is wide and shallow so it's well-designed for laying out food flat and keeping it separated. You'll get a much better and more even crisp with this style of tray over a deeper basket.
This air fryer makes about the same amount of noise as a microwave so it'll make a great addition to your kitchen. It also has a prompt for when you should turn or shake your food in the tray, which is always helpful.
Unfortunately, the tray inside of the basket isn't attached. While this is good for cleaning, it can be messy when dumping food onto a plate. There are also rubber legs on the inner tray that fall off easily if you're not paying attention.
Keep scrolling for our comparison chart of the Best Air Fryers for 2021!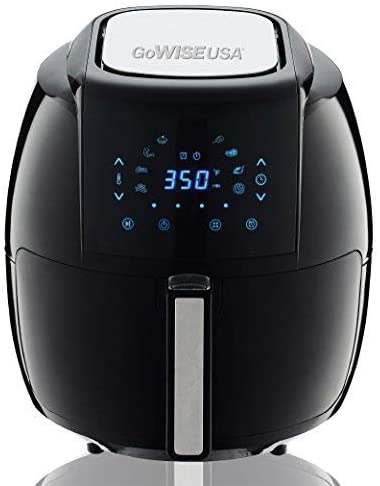 GoWise 8-in-1 Digital Air Fryer
A great budget option is the GoWise 8-in-1 Digital Air Fryer. This air fryer has 8 cooking presets so you can add your food, press a button, and be eating in no time! The presets take the guesswork out of selecting the best time and temperature for your food.
This machine also has a shake alert that will remind you when to shake the basket for even cooking and crisping. This air fryer is one of the easiest to clean and has a great cool-touch handle the makes removing the basket safe and comfortable.
It comes with a book of 50 recipes and features a bright touchscreen display for easy controls. The GoWise 8-in-1 Digital Air Fryer also has a handy start/stop button that allows you to adjust the time or temperature mid-cooking cycle.
With its 5.8 quart capacity and other great features, this air fryer offers tremendous value at its low price point.
Something to keep in mind when using the machine is that the tray must be pushed in all the way to operate correctly. You need to be extra careful that the tray is secured, or else it has a tendency to fall out. It's also important to mist a little bit of oil on your food beforehand since the tray isn't as non-stick as some of the others.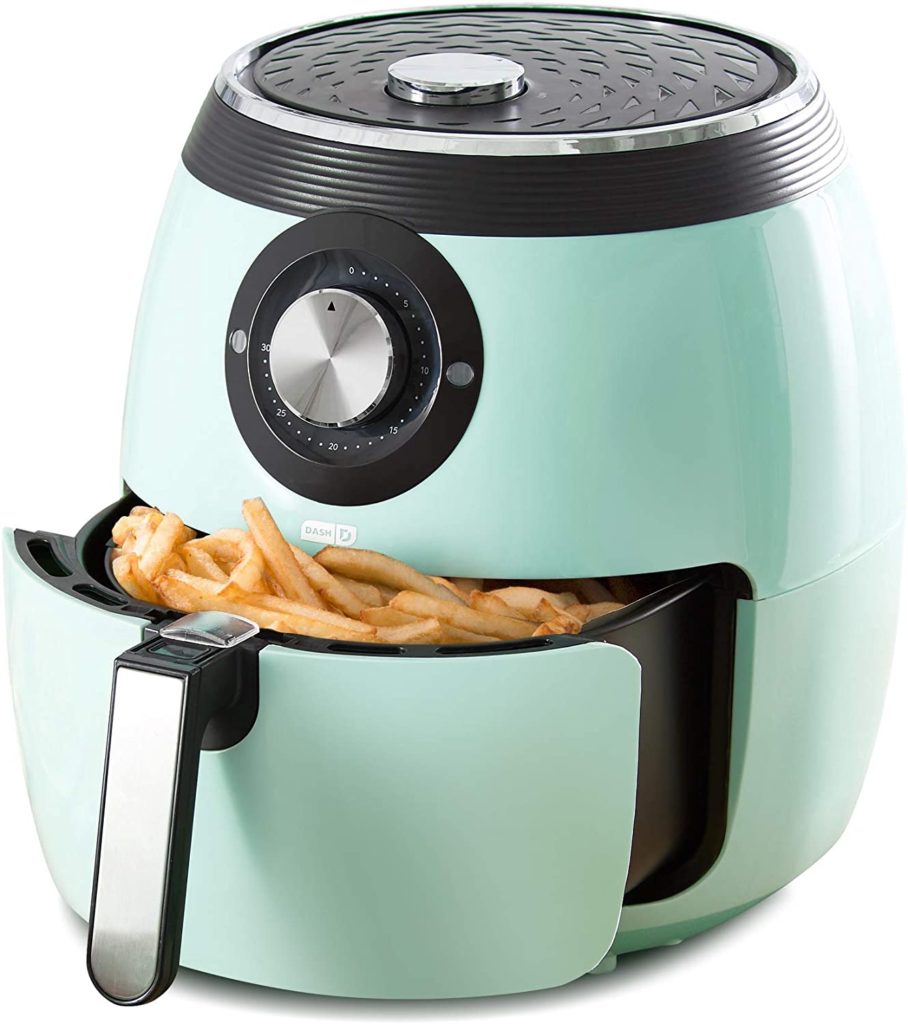 Dash Deluxe Electric Air Fryer
And finally, the Dash Deluxe Electric Air Fryer. This is by far the most stylish air fryer on our list that is sure to look amazing in any kitchen with its 4 colour options.
The Dash Deluxe has a cool-touch handle and a large 6 quart basket for family-style cooking. Even for parties, this machine can cook 2 dozen chicken wings at once! It's also super easy to clean with its dishwasher safe basket and tray.
Unlike the other air fryers on our list, the time and temperature controls on this machine are all analog. That means more control for some and more work for others. The knobs are simple and no-nonsense to operate but lack the helpful presets that other machines have.
To help this, Dash includes a recipe book that lists all the times and temperatures you'll need to enjoy healthy and delicious air fried food. Considering its large capacity, the Dash Deluxe is a great affordable and stylish option.
With its large size, it does require more counter space than some more compact models. At least it looks great so you'll have no problem dedicated its spot in the kitchen. And while the analog controls are very simple, they can be less precise than a digital display.
Here's a recap of our Top 5 Best Air Fryers for 2021:
| | | | | | | |
| --- | --- | --- | --- | --- | --- | --- |
| | Capacity | Programs | Temperature Range | Size | Weight | Critiques |
| Cosori Air Fryer Max XL | 5.8 qt | 11 presets | 170°F – 400°F | 14.3 x 11.8 x 12.6 inches | 15.7 lbs | Steam can create condensation under tray |
| Ninja Max XL Air Fryer | 5.5 qt | 7 modes | 105°F – 450°F | 14 x 11 x 14.75 inches | 11 lbs | Can take a few uses to burn off plastic smell |
| Instant Vortex Air Fryer 4 in 1 | 6 qt | 4 modes | 180°F – 400°F | 12.4 x 14.9 x 12.8 inches | 15.4 lbs | Tray inside basket tends to fall out when dumping out the basket |
| GoWise 8-in-1 Digital Air Fryer | 5.8 qt | 8 presets | 180°F – 400°F | 13.5 x 12.5 x 11.5 inches | 16 lbs | Tray has a tendency to fall out if not secured properly |
| Dash Deluxe Electric Air Fryer | 6 qt | None | 125°F – 400°F | 12.5 x 14.8 x 14.8 inches | 14.8 lbs | Analog controls can be less precise |
We hope you now feel confident about making your purchase. Don't forget to check out our other blogs and videos for more helpful buying comparisons and of course, subscribe to our YouTube channel!