Wouldn't it be amazing to have fresh, cold ice available to you whenever you need it? Well, you can with the Best Portable Ice Makers for 2020!
When the sun is hot and you want an ice-cold beverage, the last thing you want to do is go to the store to buy a bag of ice. We've searched high and low for the best, most reliable portable countertop ice makers so you never have to worry about being without ice again.
These machines are all easy to clean and require no complicated installation from an expensive plumber. All you need to do is plug it in, add some water, and you'll be scooping delicious ice into your glass in no time!
In this review, we'll be taking a look at these top-rate portable ice makers:
We want to show you the best of the best portable countertop ice makers, so we reviewed the units with these main factors:
Size and design – Having a portable ice maker that looks great on your countertop means you'll want to use your machine more often and be proud to show it off. Selecting a style that compliments the space and a size that fits nicely in your kitchen are both important factors.
Capacity – Whether you're just planning to make ice for your family or are hosting a party, the ice production amount, water reservoir capacity, and ice basket size are all important factors.
Noise – Some machines make a louder hum than others. This may not be a big deal if you have the ice machine in another room but be mindful of how the noise level will affect your environment in places like the kitchen or in an RV.
Material – While most machines have plastic insulation inside, the outer body is usually plastic or stainless steel. A stainless steel finish is more durable and looks sleek in any space.
Speed – Depending on how quickly you will need ice, some machines can keep up the pace better than others. Consider how often you'll need ice if it's a really hot day or you're having a party.
Lastly, don't forget to give your ice maker time to settle once it arrives. The cooling chemicals need to be completely settled for the machine to operate properly so be patient!
Let's say goodbye to buying ice for good and jump into the Best Portable Ice Makers for 2020.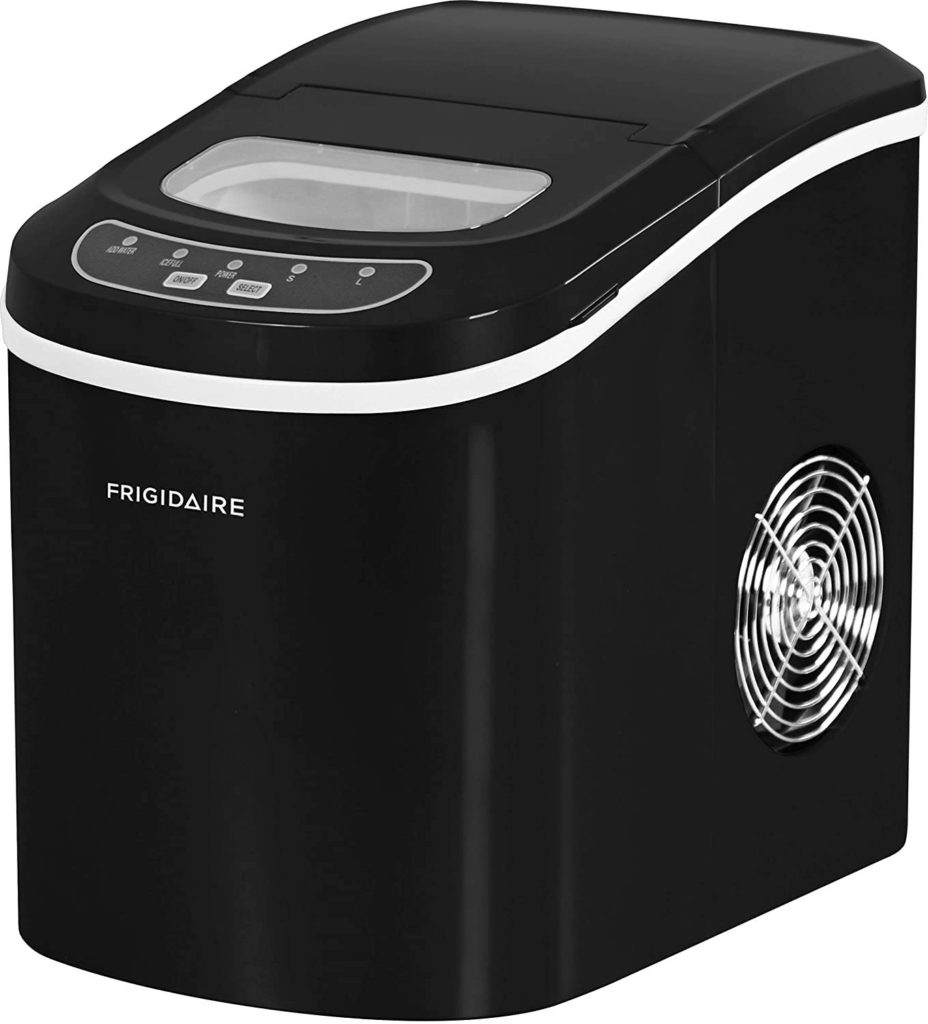 Frigidaire EFIC101
First up is the Frigidaire EFIC101. This compact counter-ready portable ice maker is the perfect addition to your home, RV, or boat. Along with its simple and clean design, this unit weighs only 18 lbs. That makes it easy to move around if you're bringing it for a weekend holiday or hosting an outdoor party.
Unlike loud, clunky ice makers, this Frigidaire ice maker runs whisper-quiet at only 38 decibels—quieter than even the hum of your fridge. The unit can produce 26 lbs of ice per day and has a 2.3 quart water reservoir for easy refilling. The large see-through window allows you to check the status of your ice without opening the lid.
The handy LED control panel is where you will select either small or large-sized cubes. You'll also be alerted when the ice basket is full or the machine needs to be topped up with water. With no installation required, you'll have your first cubes in only 15 minutes!
The only downside to this machine is that it is made out of plastic so it's a good idea to clean it a few times before your first use to avoid any plastic taste in your ice cubes.
Also keep in mind that like all of these machines, the ice basket itself is not cooled so the ice will melt if not emptied into the freezer soon after it's made. If you do leave ice in the basket, that's no problem. All of the water from the melted ice will go back into the reservoir and continue making fresh ice!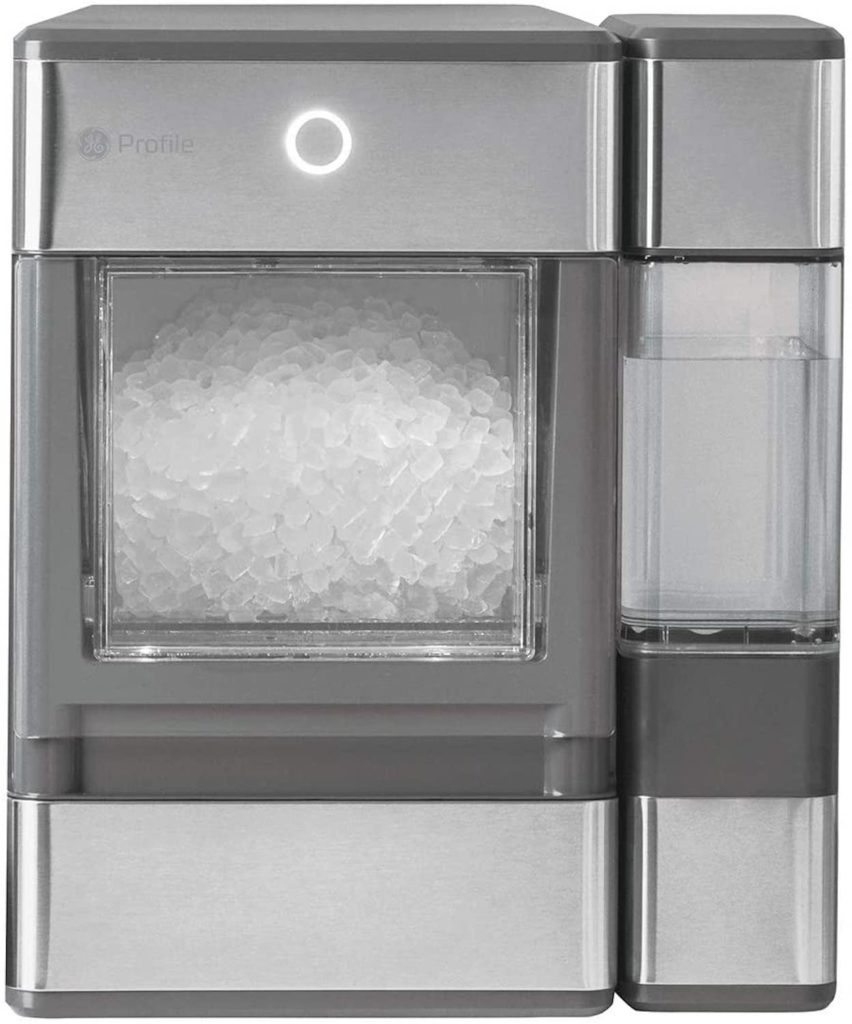 GE Profile Opal
Next up is the top pick for ice chewers, the GE Profile Opal. This machine is the king of making the "good ice," or nugget ice, just like you'd get at Sonic. Nugget ice is soft yet crunchy, making it perfect for chewing as it's made from compacted ice chips instead of one hard cube.
This machine has a stainless steel body that looks sleek and modern in any kitchen and runs at about the same hum as a dishwasher. The GE Profile Opal can produce 24 lbs of ice per day at a rate of 1 lb per hour. The ice basket holds 3 lbs of ice and you'll be able to set it and forget it with the large water reservoir and an additional 96 oz side tank. The self-cleaning feature means you don't have to fuss with cleaning the inside of the unit so you'll always have the tastiest fresh ice out there.
The coolest feature is the GE Profile Opal app, which turns your portable countertop ice maker into a smart device. The app will alert you when the ice basket is full so it won't overfill and you can even create an icemaking schedule on the app through Bluetooth.
Because this machine is so powerful, it is quite heavy at 47 lbs so it does lose points for portability. It is also much more expensive than other units because of its unique nugget ice system, which ice chewers know is totally worth it.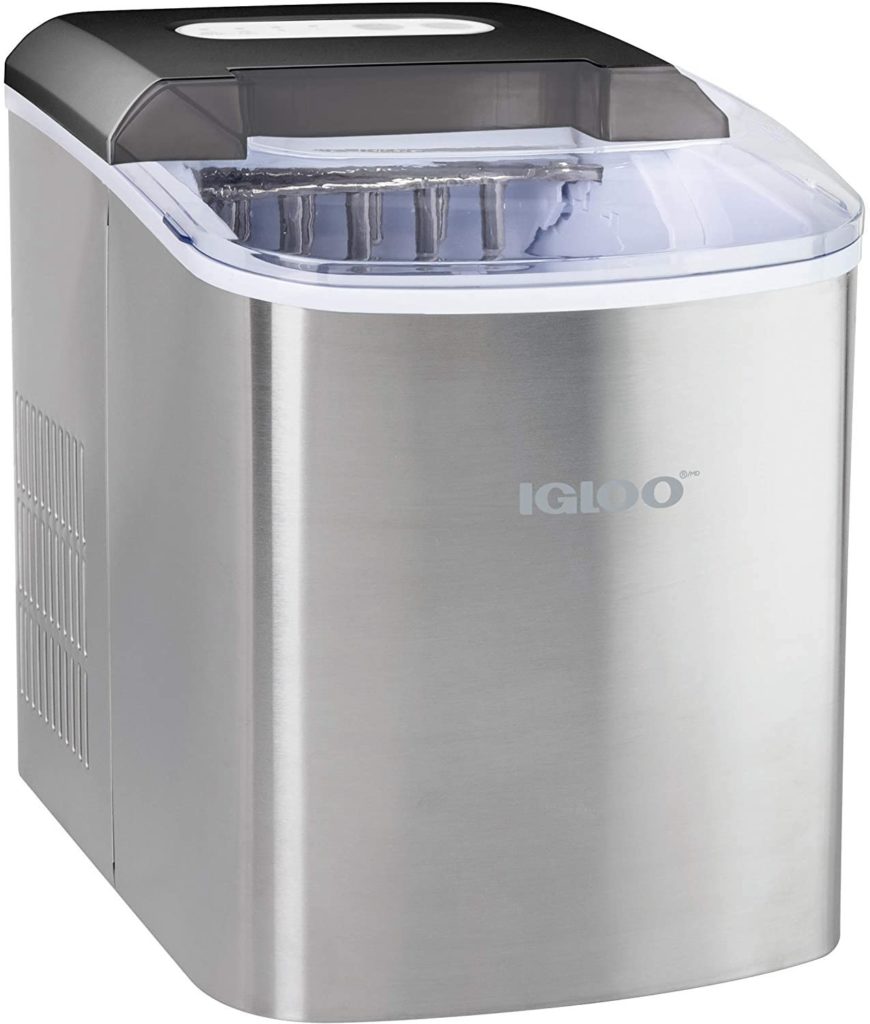 Igloo ICEB26SS
Next on our list is the Igloo ICEB26SS. This beautiful stainless steel portable ice maker is a great addition to any countertop in the kitchen or the backyard. You have the option for two different cube sizes that create small or large bullet-shaped ice that's perfect for scooping into a mixed drink or a nice cold glass of lemonade.
The LED control panel also lets you know when the ice basket is full or the water reservoir needs to be topped up. This machine has been put to the test on hot Florida days and stands the test, making crisp cold ice all day.
This Igloo ice machine can produce 26 lbs of ice per day and will pump out 9 cubes in only 7 minutes! The cubes fall into an ice basket that can hold 2 lbs of ice, where any melt is then added back into the 3 quart water reservoir. The machine is quiet but still produces a noticeable hum that is broken up with the exciting sound of fresh ice cubes hitting the basket.
While this machine is great for small batches, you will need to check on the reservoir frequently when producing large amounts of ice. It's best to start earlier in the day and bag the ice into your freezer if you're having people over, otherwise, this isn't the best pick for big parties.
Keep scrolling for our comparison chart of the Best Portable Ice Makers for 2020!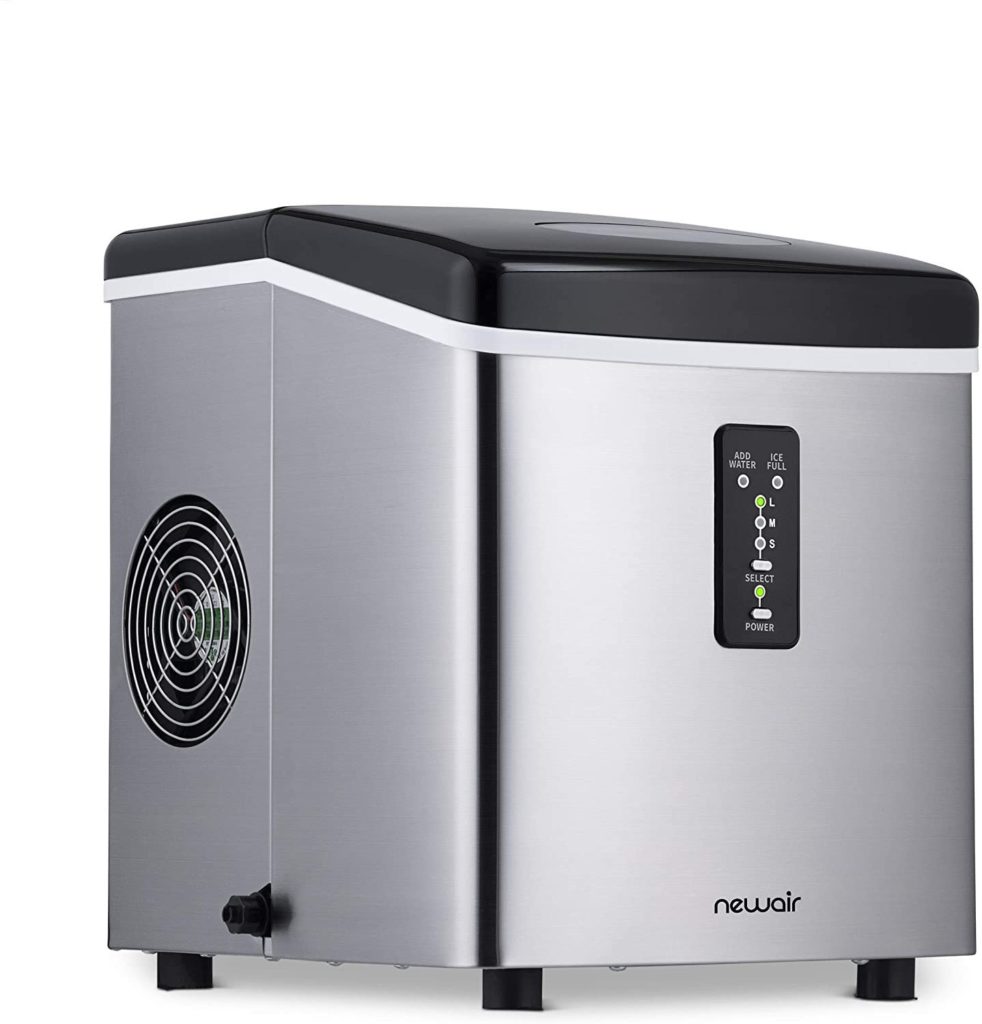 NewAir AI-100
Another sleek stainless steel machine is the NewAir AI-100. This portable ice maker comes in different color choices to match any kitchen and look stylish and modern, all while fitting nicely on the countertop.
Customize your ice with 3 different size options that you can select from the LED control panel that's conveniently located on the front of the machine. You can see when the water needs to be refilled or the basket is full from anywhere in the room! A great feature is the side-mounted drain plug that makes draining and cleaning a breeze.
This NewAir ice maker is the biggest producer on our list, making 28 lbs of ice per day. Your first batch of ice will be ready in 15 minutes and it will make 6-10 cups of ice per hour after that. There is a large 5 qt water reservoir so you don't have to worry about refilling it often and the 2.2 lb ice basket is a great size for all-day ice making. The machine also has an automatic shut-off feature that turns it off when the reservoir is empty to save electricity.
Some users reported being disappointed by the size of the ice because there isn't much variation between the 3 sizes.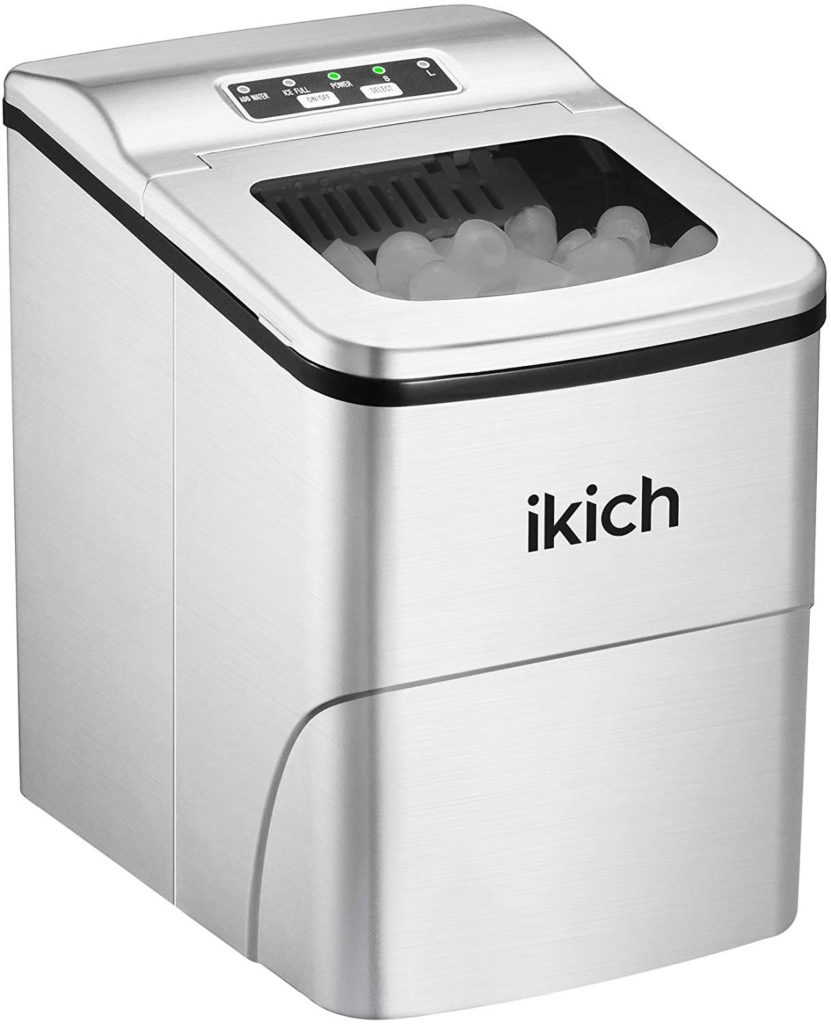 IKICH Countertop Ice Maker Machine
And finally, the IKICH Countertop Ice Maker Machine. This is the smallest, lightest, and fastest portable ice maker on our list. Weighing in at only 15.5 lbs, this workhorse is a great alternative to a nugget ice maker for those that like to chew ice. Why not have that chewable crisp ice for a fraction of the cost?!
The machine is also very quiet, running at 45 decibels, and has a large viewing window for checking on your batch of ice. The LED indicator lights let you know when to add water or when the ice basket is full. It also has an automatic shut off if you don't refill the reservoir right away.
This small but powerful ice maker can produce 26 lbs of ice per day and takes only 6 minutes to make 9 cubes! The water reservoir holds 2 qt of water and the ice basket holds 1.5 lbs of ice. There are two cube size options that rival nugget ice with their slightly softer texture. Don't be fooled by its small size, this portable countertop ice maker is a gem!
Something to keep in mind is that the machine will take a few runs before the ice cubes are the right size and the unit is operating at the correct speed, so don't be concerned if your first batch isn't perfect.
Here's a recap of our Top 5 Best Portable Ice Makers for 2020.
Daily Production + Reservoir Size
Speed
Cube Options
Size
Weight
Critiques
Frigidaire EFIC101
– 26 lbs/day
– 2.3 qt reservoir
9 cubes every 7-15 minutes
2 cube sizes
15 x 11 x 14 inches
18 lbs
Plastic body so plastic taste is possible for first couple batches
GE Profile Opal
– 24 lbs/day
– Large reservoir with additional 96 oz side tank
– Ice basket holds 3 lbs
1 lb per hour
None
15.5 x 14.25 x 17.2 inches
47 lbs
Heavy, expensive, can be loud
Igloo ICEB26SS
– 26 lbs/day
– 3 qt reservoir
– Ice basket holds 2 lbs
9 cubes in 7 min
2 cube sizes
9.61 x 14.69 x 12.4 inches
20.5 lbs
Need to check water reservoir frequently when producing large amounts of ice
NewAir AI-100
– 28 lbs/day
– 5 qt reservoir
– Ice basket holds 2.2 lbs
6-10 cups of ice per hour
3 cube sizes
14.5 x 11.75 x 15 inches
26.3 lbs
Not a very big size difference between the three ice sizes
IKICH Countertop Ice Maker Machine
– 26 lbs/day
– 2 qt reservoir
– Ice basket holds 1.5 lbs
9 cubes in 6 min
2 cube sizes
8.7 x 12.3 x 12.6 inches
15.5 lbs
Takes a few runs before the ice cubes are the correct size and the machine runs at the right speed
We hope you now feel confident about making your purchase. Don't forget to check out our other blogs and videos for more helpful buying comparisons and of course, subscribe to our YouTube channel!